Colorectal Cancer
Conserve precious colon samples and get your IHC right the first time with Proteintech's expansive library of kits and IHC-compatible antibodies.
---
Introduction
Colorectal cancer (CRC) is the third most common form of cancer worldwide, with men having a slightly higher incidence rate compared to women. Risk for developing colorectal cancer usually increases with age and can be attributed to inherited genetic mutations along with other comorbidities such as diabetes, IBD, obesity, poor diet, and an inactive lifestyle. While it can be treated when in its localized state, colorectal cancer does have a high tendency for recurrence after surgery. Additionally, detection of CRC can also be a challenge due to non-distinct symptoms that often overlap with other abdominal conditions, a delay in referring patients for additional screening, and a lack of colonoscopy resources, particularly in vulnerable communities. Proteintech offers a broad portfolio of IHC resources to help with better identification of the molecular targets associated with CRC disease origin, progression, and treatment.
Featured Markers
APC
Adenomatous polyposis coli (APC) is an antagonist of the Wnt signaling pathway. It typically binds with and triggers the degradation of the beta-catenin transcription factor. This leads to suppressed proliferation, increased cell differentiation, and in some cases, apoptosis. APC is affected by loss of function mutations in up to 80% of all CRC cases that result in truncated proteins. These truncated forms of APC help to promote the progression of CRC as they are unable to inhibit beta-catenin from reaching the nucleus and in-turn can promote the localization of anti-apoptotic proteins, such as Bcl-2, to the mitochondria. Due to its important tumor-suppressing functions, restoring APC activity has become an area of interest in the development of new, targeted CRC therapies.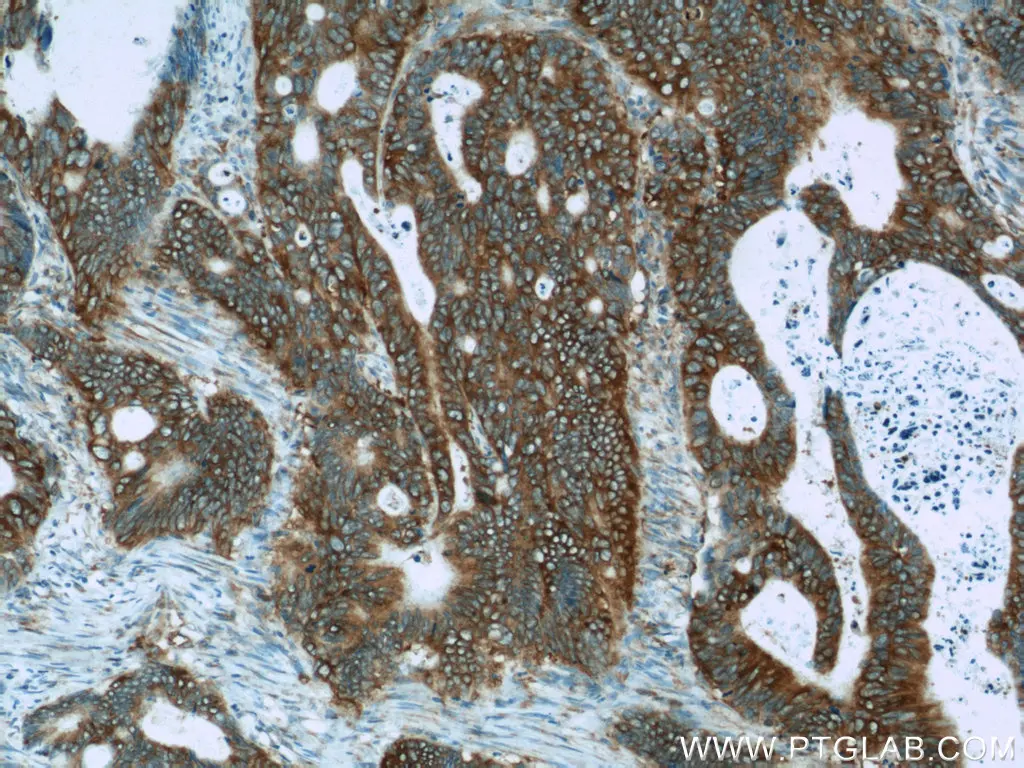 Immunohistochemical analysis of paraffin-embedded human colon cancer tissue slide using 19782-1-AP (APC Antibody) at dilution of 1:50.
P27/CDKHN1B
P27 is an inhibitor of the cyclin E/Cdk2 complex that allows cells to progress from G1 to S phase of the cell cycle. The accumulation of p27 in the cell typically causes it to remain in a quiescent state until pro-mitogenic events trigger p27 phosphorylation and subsequent degradation. The loss of p27 expression has been associated with colon cancer, resulting in uncontrolled cell growth and poor overall prognosis. P27 is often affected by alternative phosphorylation events that result in it being translocated to the cytoplasm and unable to prevent DNA replication. Proteintech's p27 antibody is one of the top-cited on the market, featured in over 150 publications worldwide.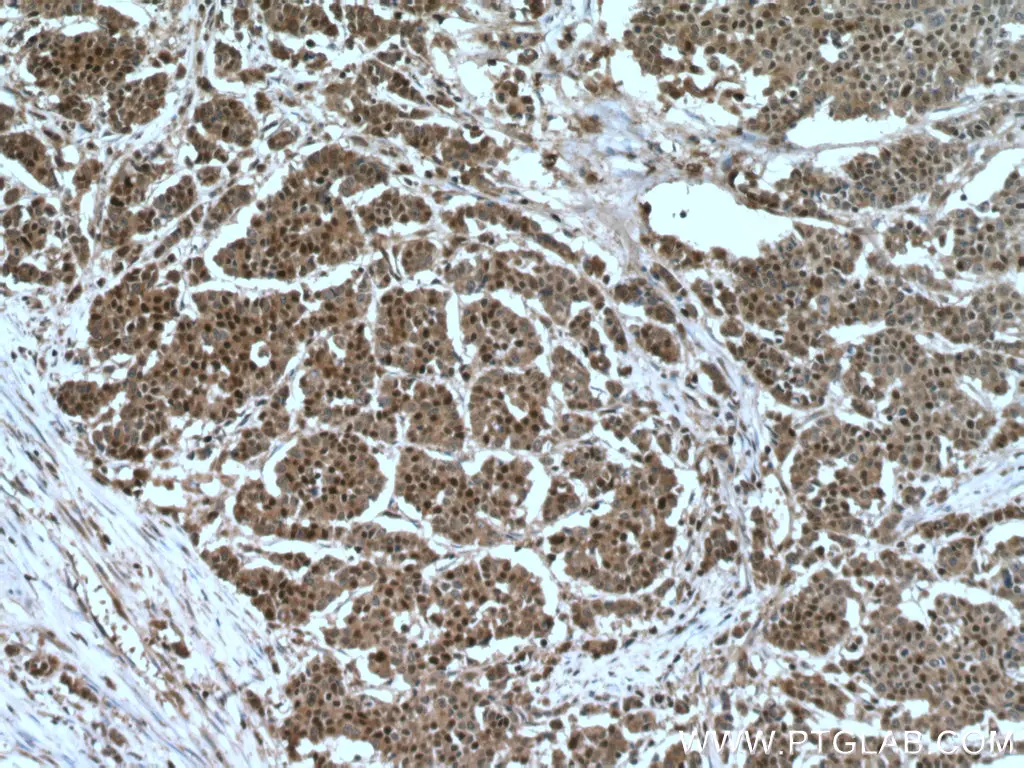 Immunohistochemical analysis of paraffin-embedded human colon cancer tissue slide using 25614-1-AP (p27; KIP1 antibody) at dilution of 1:200 (under 10x lens).
Osteopontin
Osteopontin (OPN) is part of the SIBLING family of proteins that play a role in forming the extracellular matrix of bone and dentin. However, unlike the other members of this family, OPN can be expressed in a wider variety of tissues and can have pleiotropic function in several different cancers including breast, lung, liver, stomach, and colon. Within the context of colon cancer, OPN promotes metastasis through inducing the expression of invasion-promoting genes and upregulating the expression of ECM-degrading proteins, such as MMPs and uPA. There are also studies to suggest that OPN might be able to increase stem-like qualities in colorectal cancer cells, giving them better regeneration capabilities and the potential to become drug-resistant. Proteintech's OPN antibody is one of the top-cited on the market, featured in over 180 publications and counting.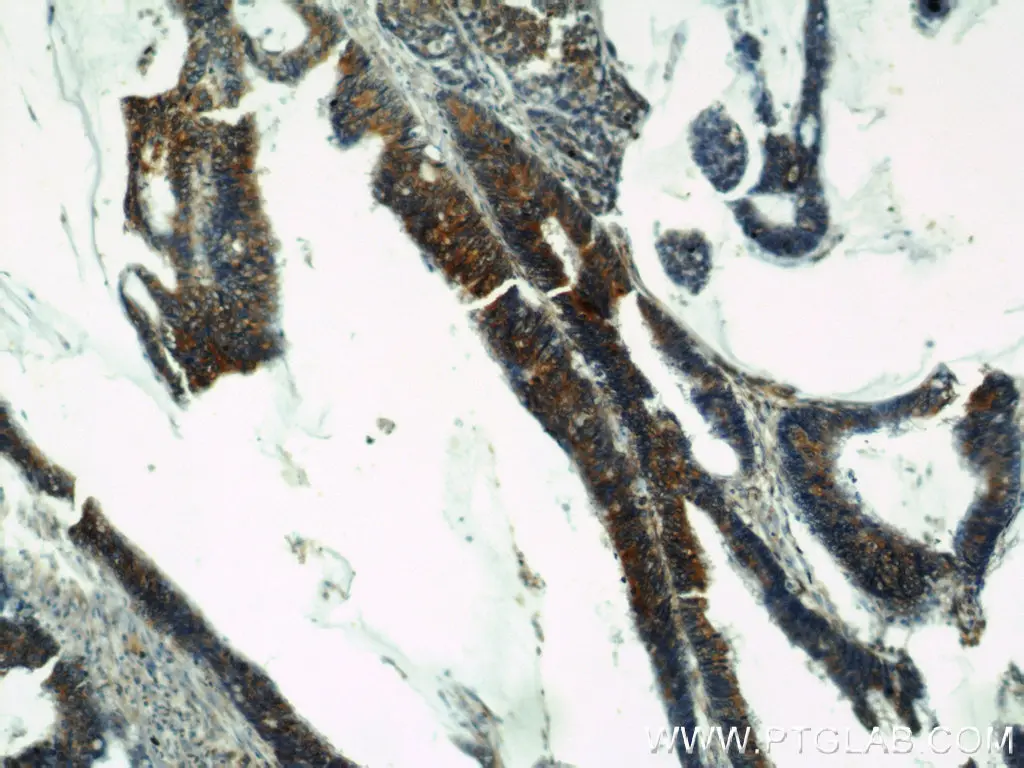 Immunohistochemical analysis of paraffin-embedded human colon cancer using 22952-1-AP (Osteopontin antibody) at dilution of 1:50 (under 10x lens).
Antibodies for Colorectal Cancer Research
Function

Marker

PTG Catalog

Angiogenesis

15091-1-AP

13801-1-AP

Cell Cycle, Growth, and Proliferation

25614-1-AP

12375-1-AP

11257-1-AP

24691-1-AP

11344-1-AP

10933-1-AP

11858-1-AP

11525-1-AP

60283-2-Ig

10231-1-AP

26581-1-AP

10253-2-AP

67787-1-Ig

Cell Survival

19782-1-AP

50599-2-Ig

12789-1-AP

22219-1-AP

15123-1-AP

Cell Stemness

51067-2-AP

10832-1-AP

18966-1-AP

Metastasis

67934-1-Ig

16036-1-AP

16001-1-AP

20899-1-AP

17329-1-AP

10849-1-AP

25413-1-AP

20254-1-AP

21738-1-AP

10819-1-AP

67139-1-Ig

10371-2-AP

10373-2-AP

23614-1-AP

22952-1-AP

22034-1-AP

67248-1-Ig

11157-1-AP

10824-1-AP

14730-1-AP
IHC Kits for Colorectal Cancer Research
Function

Marker

PTG Catalog

Angiogenesis

KHC0461

Cell Cycle, Growth, and Proliferation

KHC0773

KHC0770

KHC0917

KHC0767

KHC0898

KHC0826

KHC0759

KHC0079

KHC0849

KHC0761

KHC0765

Cell Survival

KHC0768

KHC0012

KHC0779

Cell Stemness

KHC0008

KHC0296

KHC0818

Metastasis

KHC0797

KHC0808

KHC0034

KHC0815

KHC0876

KHC0737

KHC0800

KHC0799

KHC0823

KHC0804

KHC0762

KHC0304

KHC0782

KHC0280

KHC0841

KHC0874

KHC0054
Sources
American Cancer Society. Colorectal Cancer Facts & Figures 2020-2022. Atlanta: American Cancer Society; 2020.
Amilca-Seba, K., Sabbah, M., Larsen, A. K., & Denis, J. (2021). Osteopontin as a Regulator of Colorectal Cancer Progression and Its Clinical Applications. Cancers, 13(15), 3793. https://doi.org/10.3390/cancers13153793
Bochis, O. V., Irimie, A., Pichler, M., & Berindan-Neagoe, I. (2015). The Role of Skp2 and its Substrate CDKN1B (p27) in Colorectal Cancer. Journal of Gastrointestinal and Liver Diseases, 24(2), 225–234. https://doi.org/10.15403/jgld.2014.1121.242.skp2
Hankey, W., Frankel, W. L., & Groden, J. (2018). Functions of the APC tumor suppressor protein dependent and independent of canonical WNT signaling: implications for therapeutic targeting. Cancer and Metastasis Reviews, 37(1), 159–172. https://doi.org/10.1007/s10555-017-9725-6
Vacante, M., Borzì, A. M., Basile, F., & Biondi, A. (2018). Biomarkers in colorectal cancer: Current clinical utility and future perspectives. World Journal of Clinical Cases, 6(15), 869–881. https://doi.org/10.12998/wjcc.v6.i15.869
Vega, P. C., Valentín, F., & Cubiella, J. (2015). Colorectal cancer diagnosis: Pitfalls and opportunities. World Journal of Gastrointestinal Oncology, 7(12), 422. https://doi.org/10.4251/wjgo.v7.i12.422
---
Related Content
Cancer stem cells as a key to cure cancer
Molecular markers for liver cancer

Support
Newsletter Signup
Stay up-to-date with our latest news and events. New to Proteintech? Get 10% off your first order when you sign up.