Ovarian Cancer
Proteintech offers a wide range of markers and related antibodies for ovarian cancer.
---

Schema of the ovary showing the histopathological types of ovarian cancer.
Introduction
Ovarian cancer is the fifth-most lethal malignancy in women. It is often referred to as the "silent killer" due to a lack of distinctive symptoms in the early stages that make diagnosis difficult until the disease has progressed to a more advanced state. While ovarian cancers can originate from germ cells or granulosa-theca cells, most arise from epithelial tissue and are hence referred to as epithelial ovarian cancer. Like many other cancers, the key to long-term survival is typically dependent upon early detection prior to metastasis. Proteintech offers a large variety of antibodies, ELISAs, and IHC kits against emerging ovarian cancer biomarkers to help researchers better understand and model disease progression.
Featured Markers
P53
P53 is a prominent tumor suppressor gene that is the most frequently mutated gene in cancer. It's mutation rate in ovarian cancer is one of the highest with overexpression present in nearly 97% of advanced-grade ovarian cancers. Mutated forms of p53 can function as oncogenes by transactivating genes that promote cell growth and drug resistance. They are also able to escape from proteasomal degradation resulting in longer periods of activity. Proteintech's p53 antibodies have been cited over 850 times making them a top choice of researchers around the world.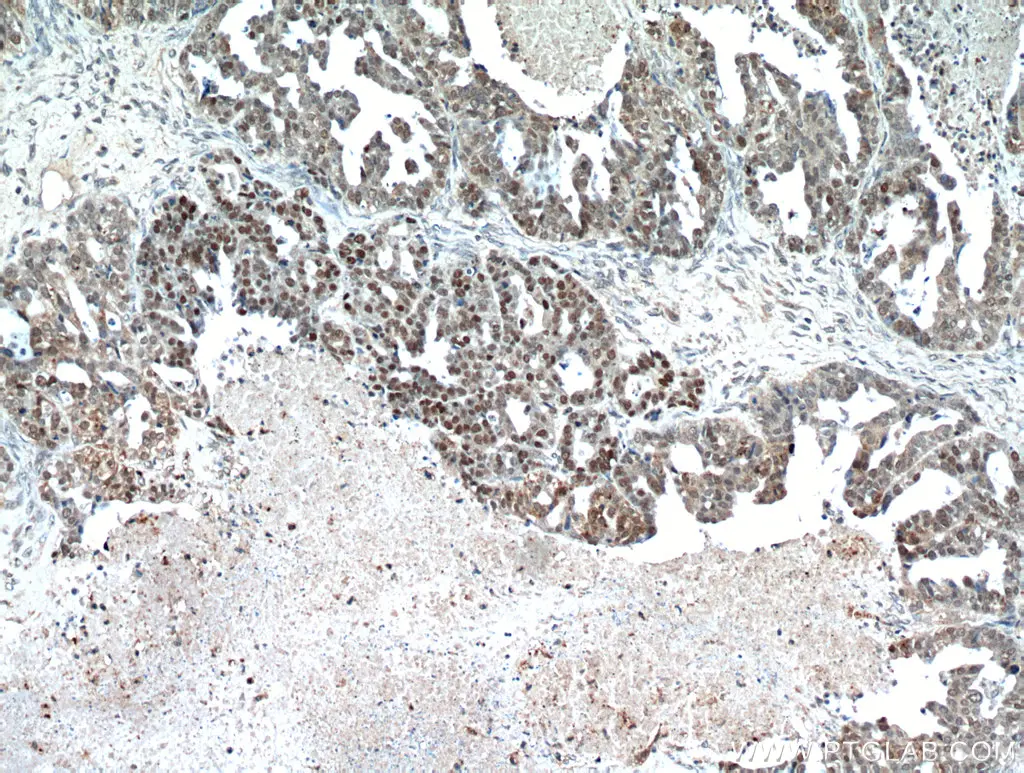 Immunohistochemical analysis of paraffin-embedded human ovary tumor using 21891-1-AP (TP53 antibody) at dilution of 1:100 (under 10x lens).
CA125
CA125, also known as MUC16, is one of the most widely used biomarkers to monitor the progression of ovarian cancer. It is a mucin protein which helps to form a protective barrier against infectious particles in female reproductive tissue through lubrication and maintenance of the mucosa. It is commonly overexpressed in ovarian cancer tissues where it is thought to facilitate tumor metastasis and evasion of host immune responses through inhibition of natural killer cells. Being a cell surface protein, CA125 is also being studied as a target for cancer immunotherapies such as CAR-T.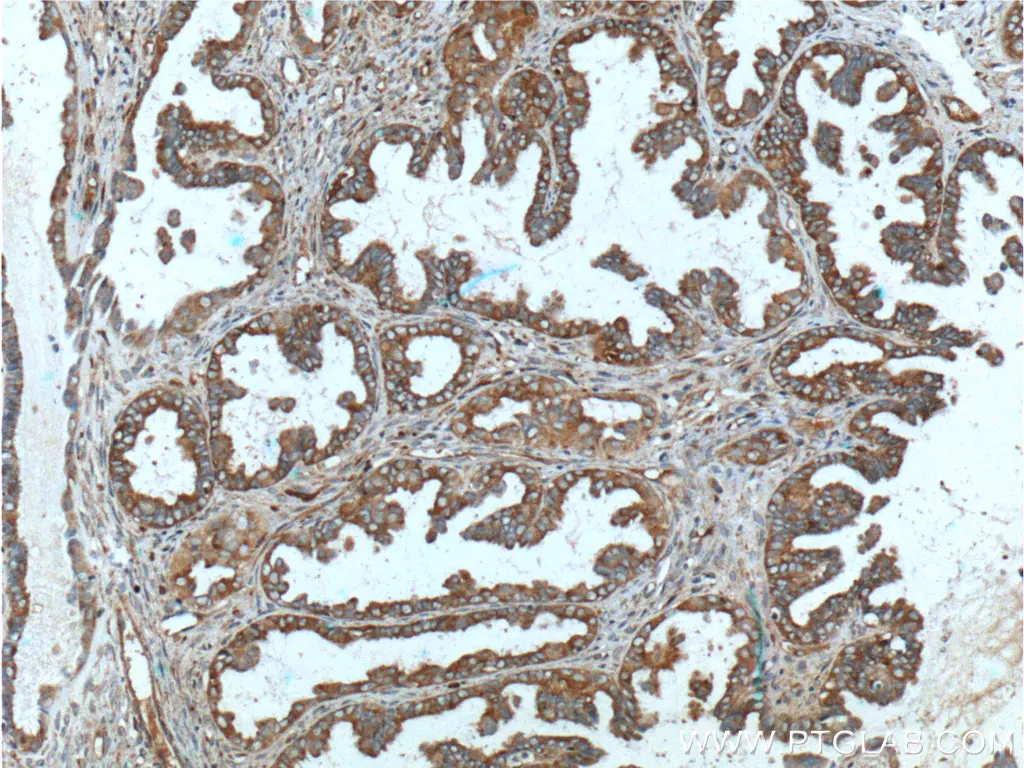 Immunohistochemical analysis of paraffin-embedded human ovary tumor tissue slide using 20077-1-AP (MUC16, CA125 Antibody) at dilution of 1:200 (under 10x lens).
HE4
Human epididymis protein 4 (HE4) was originally discovered in the male reproductive system but was later found to be expressed in several other tissues including lung, kidney, salivary gland, prostate, and breast. It is an emerging biomarker that is thought to have higher sensitivity for ovarian tumors than CA125. However, when used together, both markers can detect ovarian cancer with higher specificity compared to when either is used alone. HE4 is strongly expressed in epithelial ovarian cancer tissue and can hence be used to differentiate these tumors from those that are non-epithelial in origin. It can also be used to distinguish between benign and metastatic ovarian cancer.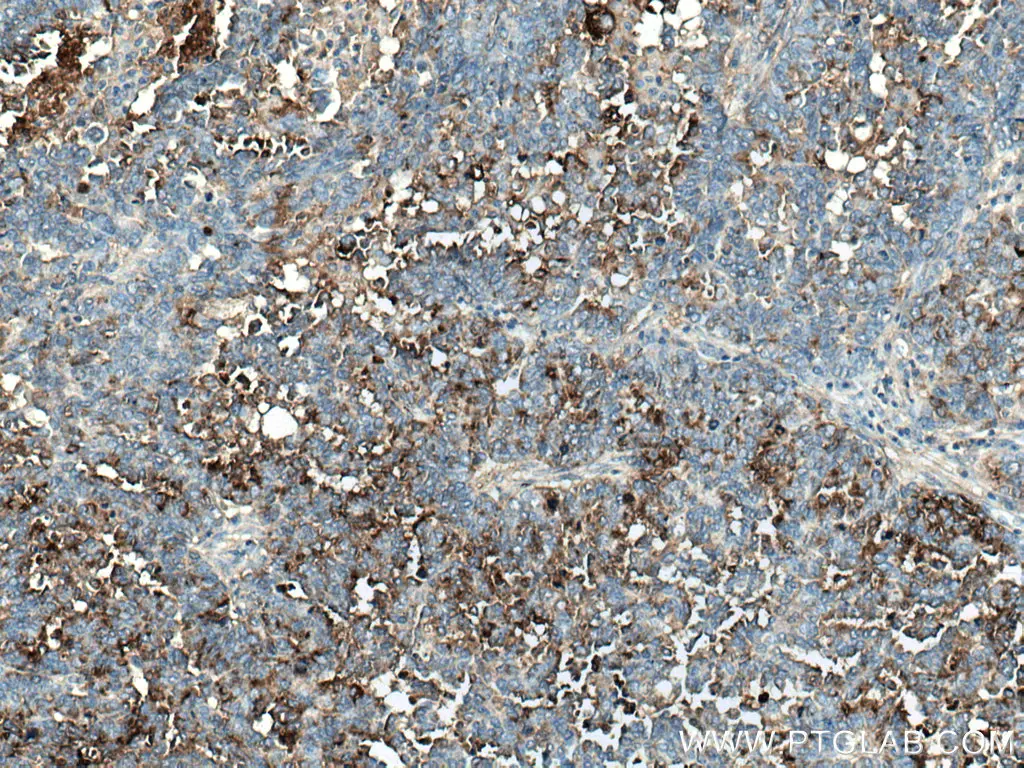 Immunohistochemical analysis of paraffin-embedded human ovary tumor tissue slide using 14406-1-AP (HE4 antibody) at dilution of 1:200 (under 10x lens).
Antibodies for Ovarian Cancer Research
Function

Marker

PTG Catalog

Cell Growth

18299-1-AP

12063-1-AP

21891-1-AP

10084-2-AP

12609-1-AP

19003-1-AP

Cell Survival

12789-1-AP

13171-1-AP

22952-1-AP

12036-1-AP

Differentiation

17513-1-AP

17329-1-AP

14406-1-AP

14232-1-AP

Metastasis

20077-1-AP

10593-1-AP

11065-3-AP
IHC Kits for Ovarian Cancer Research
Function

Marker

PTG Catalog

Cell Growth

KHC0079

KHC0496

KHC0735

Cell Survival

KHC0012

KHC0659

KHC0782

Differentiation

KHC0204, KHC0748

KHC0034
ELISA Kits for Serum Biomarkers
Ovarian cancer is often diagnosed through detection of secreted proteins in patient serum. Depending of the stage of disease, some of these proteins may be highly elevated and can hence be used as markers of prognosis. Proteintech's ELISA kits are highly sensitive and have been validated in several different sample sources including serum, plasma, and cell lysate supernatants.  
| | | | |
| --- | --- | --- | --- |
| PTG Catalog | Marker | Range | Sensitivity |
| KE00132 | | 15.6-1000 pg/mL | 0.1 pg/mL |
| KE00157 | | 0.47-30 ng/mL | 0.03 ng/mL |
| KE00265 | | 46.88-3000 pg/mL | 2.8 pg/mL |
| KE00287 | | 0.625-40 ng/mL | 0.04 ng/mL |
| KE00233 | | 31.25-2000 pg/mL | 1.85 pg/mL |
| KE00046 | | 1.56-100 ng/mL | 0.6 ng/mL |
| KE00216 | | 31.25-2000 pg/mL | 1 pg/mL |
References
Aithal, A., Rachagani, S., Kshirsagar, P., Shah, A., Lakshmanan, I., Junker, W. M., Jain, M., Ponnusamy, M. P., & Batra, S. K. (2018). MUC16 as a novel target for cancer therapy. Expert Opinion on Therapeutic Targets, 22(8), 675–686. https://doi.org/10.1080/14728222.2018.1498845
Atallah, G. A., Aziz, N. a. A., Chew, K. T., Shafiee, M. N., & Kampan, N. C. (2021). New Predictive Biomarkers for Ovarian Cancer. Diagnostics, 11(3), 465. https://doi.org/10.3390/diagnostics11030465
Dochez, V., Caillon, H., Vaucel, E., Dimet, J., Winer, N., & Ducarme, G. (2019). Biomarkers and algorithms for diagnosis of ovarian cancer: CA125, HE4, RMI and ROMA, a review. Journal of Ovarian Research, 12(1). https://doi.org/10.1186/s13048-019-0503-7
Kolesar, J. M. (2017). A Perspective on Ovarian Cancer Biomarkers: Past, Present and Yet-To-Come. Diagnostics, 7(1), 14. https://doi.org/10.3390/diagnostics7010014
Li, J., Dowdy, S. C., Tipton, T., Podratz, K. C., Lu, W., Xie, X., & Jiang, S. W. (2009). HE4 as a biomarker for ovarian and endometrial cancer management. Expert Review of Molecular Diagnostics, 9(6), 555–566. https://doi.org/10.1586/erm.09.39
Ozaki, T., & Nakagawara, A. (2011). Role of p53 in Cell Death and Human Cancers. Cancers, 3(1), 994–1013. https://doi.org/10.3390/cancers3010994
---
Related Content
Cancer stem cells as a key to cure cancer
Molecular markers for liver cancer

Support
Newsletter Signup
Stay up-to-date with our latest news and events. New to Proteintech? Get 10% off your first order when you sign up.