Brain Tumor Markers
Don't overthink it, use Proteintech's unmatched reagents to study brain tumors in more detail
---
Introduction
Gliomas are primary tumors of the central nervous system that arise from the supportive tissue of the brain. They can be classified as astrocytomas, ependymomas, or oligodendromas based on the cell of origin. About half of all glioma cases end up progressing to stage IV tumors known as glioblastoma multiforme (GBM). While less common than other cancers, GBM is one of the most aggressive and devastating, with five-year survival rates as low as 6%. It is additionally very difficult to treat due to the presence of drug-resistant glioma stem cells that have the capability to reinitiate tumors even after surgery or courses of radiation or chemotherapy. The development of more targeted therapies for GBM, will likely be dependent upon the identification of critical biomarkers that provide a window into better understanding disease origins and progression. Proteintech's cancer and neuroscience research portfolios offer numerous products against both well established and emerging targets to help researchers study the more than 100 different types of tumors arising in the brain.
Featured Markers
GFAP
Glial fibrillary acidic protein (GFAP) is a well-established marker for astrocytoma. As it is typically expressed in mature astrocytes, GFAP has been historically used to identify early-stage gliomas that are at a more-differentiated state. Recent studies though, have shown that GFAP can also be expressed by neural stem cells and therefore can be used to identify glioma stemness, often a feature of malignant and radioresistant brain tumors. Proteintech's GFAP antibodies, available in primary and fluorescent-dye conjugated formats, have been collectively cited nearly 500 times by researchers across the globe and are the perfect choice for IHC and IF experiments in human, mouse, and rat brain tissue.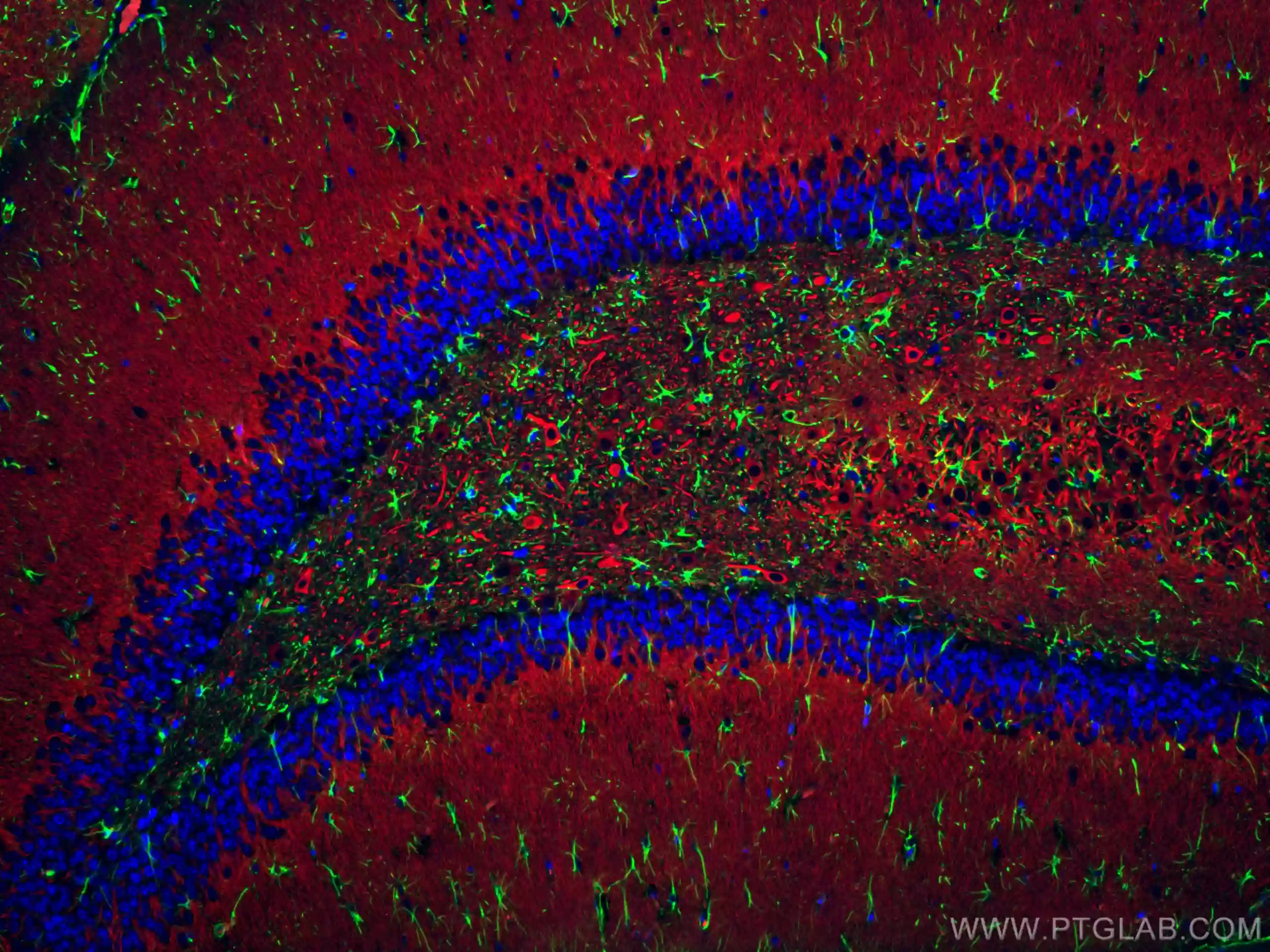 IF staining of rat brain using CoraLite Plus 488 GFAP antibody (CL488-16825, green), CoraLite 594 MAP2 antibody (CL594-17490, red), and DAPI (blue)
Immunohistochemical analysis of paraffin-embedded human gliomas tissue slide using 60190-1-Ig (GFAP Antibody) at dilution of 1:5000 (under 10x lens).
IL-13RA2
The IL-13 receptor is expressed in a variety of tumors including those of the pancreas, ovaries, breast, and colon. It has also been found to be significantly overexpressed in glioma and other brain tumors compared to normal brain tissue. IL-13RA2 is specifically a high affinity binding receptor for IL-13 and results in downstream activation of the AP-1 transcription factor which promotes cell proliferation, invasiveness, and angiogenesis. Increased IL-13RA2 expression in gliomas has been linked to metastasis and poor long-term survival. Due to these disease promoting roles, IL-13RA2 is being increasingly evaluated as therapeutic target for various glioma treatment modalities, including CAR-T.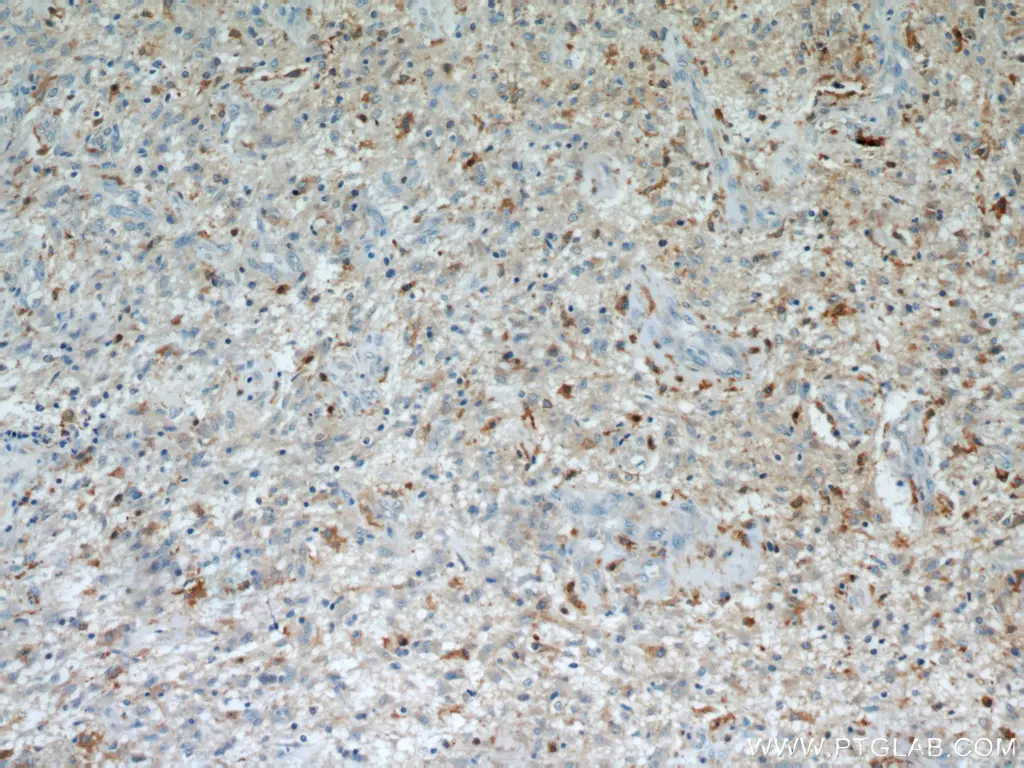 Immunohistochemical analysis of paraffin-embedded human gliomas using 11059-1-AP (IL13RA2 antibody) at dilution of 1:50.
Sox2
Glioma stem cells form one of the major hurdles to successfully treating glioma because their stemlike properties often confer a degree of radio resistance and allow for re-initiation of tumor growth. Sox2, a transcription factor that is required for the maintenance and self-renewal of embryonic and neural stem cells, is often associated with the gene signature of several cancer stem cells. Its expression is notably amplified in glioblastoma, with up to 80% of cells in some tumors expressing this marker. Higher expression of SOX2 in gliomas is correlated with increased aggressiveness, proliferation, and malignancy. Targeting Sox2, along with other makers for pluripotency, may provide an ability to prevent tumor recurrence.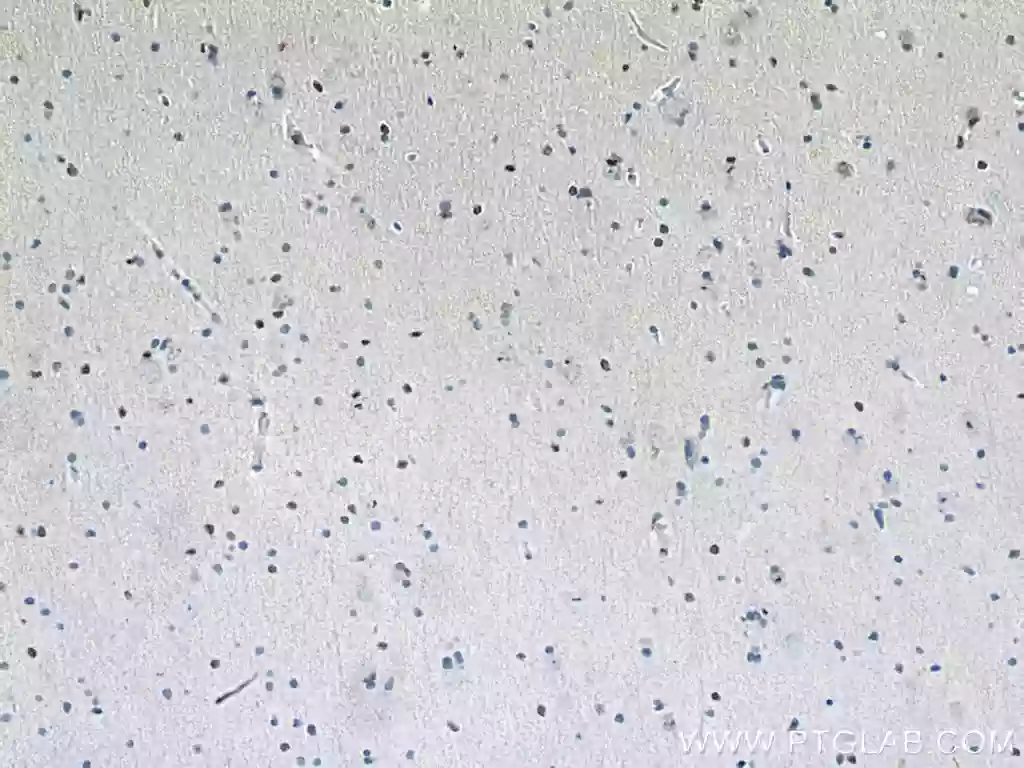 Immunohistochemical analysis of paraffin-embedded human gliomas tissue slide using 11064-1-AP (SOX2 antibody) at dilution of 1:200 (under 10x lens).
Antibodies for Glioma Research
Function

Marker

PTG Catalog

Cancer Stemness

25167-1-AP

15675-1-AP

67749-1-Ig

10828-1-AP

14295-1-AP

19483-1-AP

11263-1-AP

13999-1-AP

11064-1-AP

16105-1-AP

Cancer Type Differentiation

16825-1-AP/60190-1-Ig

17785-1-AP

Cell Cycle, Growth, and Proliferation

11073-2-AP

18986-1-AP

16571-1-AP

10727-1-AP

68345-1-Ig

27309-1-AP

21891-1-AP

22034-1-AP

14025-1-AP

19003-1-AP

Cell Survival and Drug Resistance

18470-1-AP

67879-1-Ig

66905-1-Ig

27353-1-AP

12332-1-AP

60096-1-Ig

12036-1-AP

Invasion and Metastasis

55021-1-AP

11059-1-AP

20659-1-AP

19987-1-AP

15792-1-AP

26992-1-AP

10508-1-AP

27789-1-AP
IHC Kits for Glioma Research
Function

Target

PTG Catalog

Cancer Stemness

KHC0030

KHC0294

KHC0108

Cancer Type Differentiation

KHC0002

KHC0059

Cell Cycle, Growth, and Proliferation

KHC0485

KHC0612

KHC0483

KHC0419

KHC0568

KHC0079

KHC0280

KHC0735

Cell Survival and Drug Resistance

KHC0541

KHC0621

Invasion and Metastasis

KHC0374

KHC0112

KHC0536

KHC0646

KHC0113
References
Bhardwaj, R., Suzuki, A., Leland, P., Joshi, B. H., & Puri, R. K. (2018). Identification of a novel role of IL-13Rα2 in human Glioblastoma multiforme: interleukin-13 mediates signal transduction through AP-1 pathway. Journal of Translational Medicine, 16(1). https://doi.org/10.1186/s12967-018-1746-6
Chen, J., McKay, R. M., & Parada, L. F. (2012). Malignant Glioma: Lessons from Genomics, Mouse Models, and Stem Cells. Cell, 149(1), 36–47. https://doi.org/10.1016/j.cell.2012.03.009
Lathia, J. D., Mack, S. C., Mulkearns-Hubert, E. E., Valentim, C. L. L., & Rich, J. N. (2015). Cancer stem cells in glioblastoma. Genes and Development, 29(12), 1203–1217. https://doi.org/10.1101/gad.261982.115
Mansouri, S., Nejad, R., Karabork, M., Ekinci, C., Solaroglu, I., Aldape, K., & Zadeh, G. (2016). Sox2: regulation of expression and contribution to brain tumors. CNS Oncology, 5(3), 159–173. https://doi.org/10.2217/cns-2016-0001
Van Bodegraven, E. J., Van Asperen, J. V., Robe, P. A., & Hol, E. M. (2019). Importance of GFAP isoform‐specific analyses in astrocytoma. Glia, 67(8), 1417–1433. https://doi.org/10.1002/glia.23594
Zeng, J., Zhang, J., Yang, Y., Wang, F., Jiang, H., Chen, H., Wu, H., Sai, K., & Hu, W. (2020). IL13RA2 is overexpressed in malignant gliomas and related to clinical outcome of patients. PubMed, 12(8), 4702–4714. https://pubmed.ncbi.nlm.nih.gov/32913543