Scientist Spotlight
The life of a scientist is not one path, it varies person to person. Proteintech's Scientist Spotlight is a monthly highlight of a scientist and their unique journey to discovery.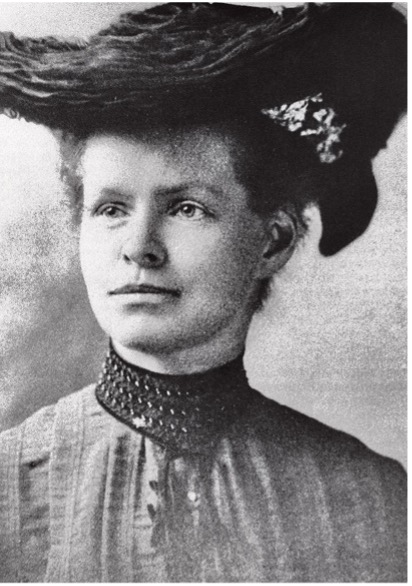 September Scientist Spotlight- Nettie Stevens
September, 2022 by Afrida Rahman-Enyart, PhD.
     This month's "Scientist Spotlight" features geneticist Nettie Stevens, who made landmark discoveries in the fields of embryology and cytogenetics during her tragically short time as a scientist. Stevens is best known for her discovery of the sex chromosomes.
     Nettie Stevens was born in 1861 in Cavendish, Vermont as one of four children, two boys and two girls. Unfortunately, both of her brothers died at a young age. Additional tragedy struck the family in 1865 when Stevens's mother also passed away. After her mother's death, Stevens's father remarried and the family moved to Westford, Vermont. As a carpenter, Stevens's father was able to provide a quality education for his daughters. During the late 1800s, however, most women did not pursue professions beyond being a teacher, nurse, or secretary. Stevens did not want to follow this trajectory and, instead, dreamed of becoming a scientist.  
     At school, Stevens excelled in her studies and was one of three women to graduate from Westford Academy between 1872 and 1883. After graduating, she became a teacher with the hope of saving money to pay for higher education. After three years of teaching, Stevens went on to study at what is now Westfield State University. She graduated in two years at the top of her class. Afterwards, Stevens returned to teaching and worked as a librarian to save money for additional schooling. Finally, at 35, she was able to enroll at Stanford University, where she became specifically interested in physiology and histology. She received both her BA and MA in biology from Stanford. Stevens then went on to pursue her PhD in cytology at Bryn Mawr College under the mentorship of Thomas Hunt Morgan. Her thesis work focused on developmental biology and regeneration, including the development of sperm and eggs in sea urchins and worms. She did exceptionally well in graduate school and was even named a President's European Fellow, which allowed her to study abroad in Italy and Germany. In 1903, Stevens received her PhD. She continued to a postdoc at the Carnegie Institution, where she received several grants to study heredity related to Mendel's laws and sex determination. In 1905 she wrote a research paper and won an award for the best scientific paper written by a woman.     
     Stevens's work on sex determination was groundbreaking. She observed that sperm from male mealworms sometimes contained a small chromosome (now recognized as the Y chromosome) or a large chromosome (now recognized as the X chromosome). She identified that whether a sperm carried the small or large chromosome determined the sex of the offspring, since all eggs carried only the large chromosome. She concluded that the male partner determined the biological sex of progeny. Stevens's discovery was the first time that scientists had been able to physically observe differences in chromosomes and link these to a phenotypic trait. At the time, it was commonly thought that biological sex was determined either by the mother or other environmental factors. In fact, Stevens's findings directly refuted the previous idea of Clarence Erwin McClung, who argued that the X chromosome determined biological sex. Around the same time as Stevens's findings, Edmund Wilson made a similar discovery while studying spermatogenesis. However, Wilson's research only examined male and not female germ cells. Additionally, Stevens's work was based on Mendelian theory and, although Wilson obtained similar results, his findings deviated from this theory.  
     Although Stevens's findings were momentous, they were not appreciated during the time and did not receive the attention they deserved until 1933, when genetics became a more popular field of study. Additionally, as a woman scientist, her findings were not taken seriously, and she was often overshadowed by her male colleagues. For example, while both Morgan and Wilson were invited to be speakers at a conference to discuss their ideas on sex determination, Stevens was not. In addition, many textbooks credit Stevens's findings to McClung, Morgan, or Wilson. Interestingly, at the time Stevens published her findings, Morgan disagreed with the conclusions.  
     After her postdoc and findings in sex determination, Stevens got a job at Bryn Mawr College and eventually became an Associate in Experimental Morphology. In 1912, nine years after receiving her PhD, she was finally offered her dream job as a research professor at Bryn Mawr College. Unfortunately, she passed away from breast cancer before she could accept the offer. Although Stevens's time as a scientist was cut short, she left an outstanding legacy, publishing 38 papers during her time as a scientist.  
     Although Stevens's accomplishments were not appreciated while she was alive, her success has been celebrated more recently. For example, she was inducted into the National Women's Hall of Fame in 1994, was the center of a Google Doodle to celebrate her 155th birthday in 2016, and had a Science and Innovation Center named after her at Westfield State University. Nettie Stevens was determined to become a scientist, and no matter how difficult her journey was, she became a legendary one.  
References:
Nettie Stevens | American biologist and geneticist | Britannica. (2020). In Encyclopædia Britannica. https://www.britannica.com/biography/Nettie-Stevens
Nettie Stevens: Biography and Contributions - science - 2022. (n.d.). Warbletoncouncil. Retrieved September 6, 2022, from https://warbletoncouncil.org/nettie-stevens-8898
Nettie Stevens: A Discoverer of Sex Chromosomes | Learn Science at Scitable. (2014). Nature.com. https://www.nature.com/scitable/topicpage/nettie-stevens-a-discoverer-of-sex-chromosomes-6580266/