Melanoma
Peel through all the layers of the skin and discover the molecular origins of melanoma with our antibodies, ELISAs, and IHC kits
---
Introduction
Melanoma is a form of skin cancer that arises out of the pigment producing cells known as melanocytes. While it is the least common form of skin cancer, affecting only about 100,000 new people each year, it is responsible for nearly 75% of all skin cancer related deaths. Melanoma is often caused by an overexposure to UV rays, although having an abnormal number of moles, fair skin, family history, and a weakened immune system can serve as risk factors as well. It is relatively treatable if detected early-on, but the survival rate begins to drop as the cancer begins to metastasize and spread to more parts of the body. Proteintech offers a wide variety of antibodies against tissue biomarkers to aid in melanoma detection and ELISA kits against serum biomarkers to study melanoma progression.
S100
S100 is a calcium binding protein that was named for its ability to be 100% soluble in saturated ammonium sulfate. It is thought one of the most sensitive markers for melanoma detection, however, it may not be the most specific as it is also expressed in other cell types, including astrocytes, nerve sheath cells, myoepithelial cells, adipocytes, and chondrocytes. S100 plays a role in several cellular functions including cell growth, cell cycle regulation, and cell motility. It can be useful in distinguishing melanoma from other malignancies when it is stained for in conjunction with other biomarkers.
Immunohistochemical analysis of paraffin-embedded human malignant melanoma tissue slide using 15146-1-AP (S100 beta antibody) at dilution of 1:800 (under 10x lens).
Melan-A
Melan-A is protein that associates with and assists in the expression, processing, and trafficking of pMel, a protein that plays a role in the organization of melanin-producing organelles within the melanocyte. It is expressed in more than 85% of melanomas and is typically localized to the membranes of melanosomes and endoplasmic reticulum. Since it is only expressed in melanocytes, there are some studies to suggest that melan-A might be a more sensitive and specific marker for melanoma detection than S100.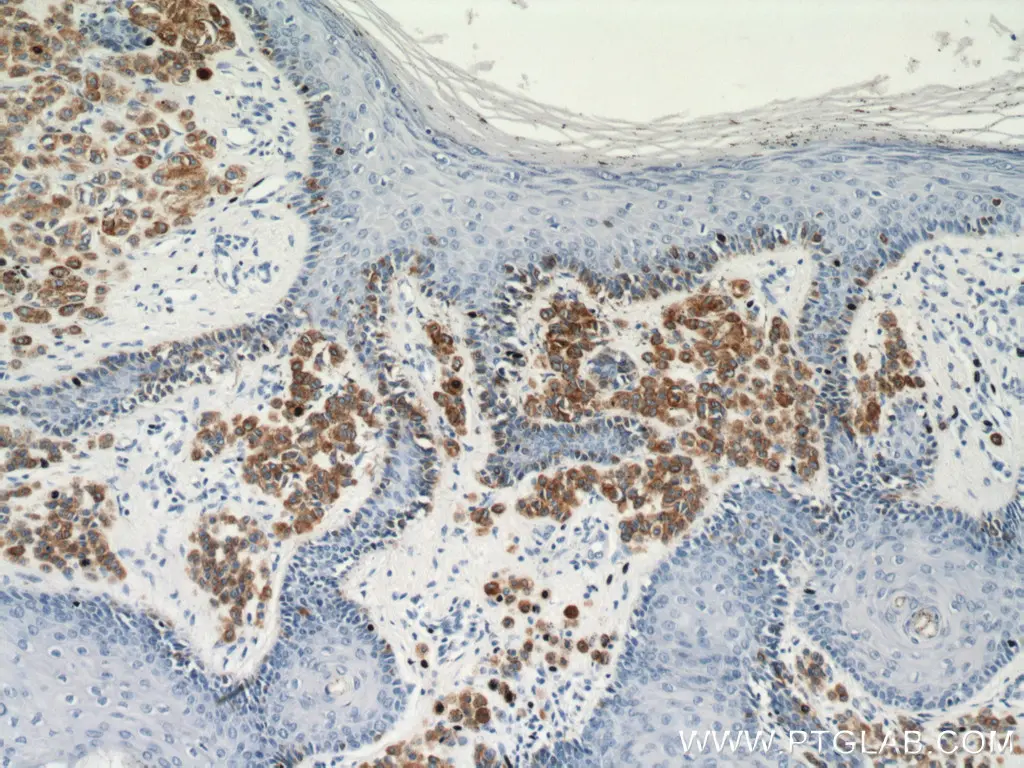 Immunohistochemical analysis of paraffin-embedded human malignant melanoma tissue slide using 18472-1-AP (MLANA antibody) at dilution of 1:4000 (under 10x lens).
NRAS
The NRAS protein is part of a larger family of GTPase proteins that participate in signaling pathways regulating cell division. Mutations within the NRAS gene are common and occur in nearly 15-20% of all melanoma cases. These mutations result in constitutively active forms of NRAS, leading to uncontrolled growth and tumors that are often more aggressive and have a higher propensity for metastasis. Due to this potent oncogenic activity, targeting the NRAS pathway has become an area of focus in the development of new immune therapies.
Immunohistochemical analysis of paraffin-embedded human malignant melanoma tissue slide using 18296-1-AP (NRAS-Specific antibody) at a dilution of 1:500 (under 10x lens).
Antibodies for Melanoma Research
Function

Marker

PTG Catalog

Cell Cycle, Growth, and Proliferation

18008-1-AP

11026-1-AP

55027-1-AP

27309-1-AP

15146-1-AP

Cell Survival

15252-1-AP

Cancer Type Differentiation

25682-1-AP

12375-1-AP

18472-1-AP

15734-1-AP

27329-1-AP

55111-1-AP

Metastasis

20899-1-AP

15613-1-AP

60207-1-Ig

10280-1-AP

17564-1-AP

22989-1-AP

17281-1-AP

20809-1-AP

23614-1-AP

18296-1-AP

22952-1-AP

10883-1-AP

10746-1-AP

20339-1-AP
IHC Kits for Melanoma Research
Function

Marker

PTG Catalog

Cell Cycle, Growth, and Proliferation

KHC0386

KHC0303

KHC0273

KHC0050

Cancer Type Differentiation

KHC0722

KHC0770

KHC0275

Metastasis

KHC0274

KHC0276

KHC0035

KHC0272

KHC0785

KHC0279

KHC0782

KHC0176
ELISA Kits to Study Melanoma Progression
Serum concentrations of biomarkers can be used as a tool for monitoring disease progression as it has been established that certain biomarker concentrations are directly correlated with specific stages of melanoma. Proteintech's ELISA kits are highly sensitive and have been validated in several different sample sources including serum, plasma, and cell lysate supernatants.
| | | | |
| --- | --- | --- | --- |
| PTG Catalog | Marker | Range | Sensitivity |
| KE00004 | | 0.156-10 ng/mL | 0.02 ng/mL |
| KE00168 | | 0.313-20 ng/mL | 0.26 ng/mL |
| KE00287 | | 0.625-40 ng/mL | 0.04 ng/mL |
| KE00164 | | 62.5-4000 pg/mL | 10.0 pg/mL |
| KE00103 | | 15.6-1000 pg/mL | 1.0 pg/mL |
| KE00216 | | 31.25-2000 pg/mL | 1 pg/mL |
| KE00239 | | 31.25-2000 pg/mL | 0.39 pg/mL |
References
Davis, L. B., Shalin, S. C., & Tackett, A. J. (2019). Current state of melanoma diagnosis and treatment. Cancer Biology & Therapy, 20(11), 1366–1379. https://doi.org/10.1080/15384047.2019.1640032
Heppt, M. V., Siepmann, T., Engel, J., Schubert-Fritschle, G., Eckel, R., Mirlach, L., Kirchner, T., Jung, A. W., Gesierich, A., Ruzicka, T., Flaig, M. J., & Berking, C. (2017). Prognostic significance of BRAF and NRAS mutations in melanoma: a German study from routine care. BMC Cancer, 17(1). https://doi.org/10.1186/s12885-017-3529-5
Muñoz-Couselo, E., Adelantado, E. Z., Ortiz, C., García, J., & Perez-Garcia, J. (2017). NRAS-mutant melanoma: current challenges and future prospect. OncoTargets and Therapy, Volume 10, 3941–3947. https://doi.org/10.2147/ott.s117121
Ohsie, S. J., Sarantopoulos, G. P., Cochran, A. J., & Binder, S. W. (2008). Immunohistochemical characteristics of melanoma. Journal of Cutaneous Pathology, 35(5), 433–444. https://doi.org/10.1111/j.1600-0560.2007.00891.x
Weinstein, D. E., Leininger, J., Hamby, C. V., & Safai, B. (2014). Diagnostic and prognostic biomarkers in melanoma. The Journal of Clinical and Aesthetic Dermatology, 7(6), 13–24.
---
Related Content
Cancer stem cells as a key to cure cancer
Molecular markers for liver cancer

Support
Newsletter Signup
Stay up-to-date with our latest news and events. New to Proteintech? Get 10% off your first order when you sign up.