Prostate Cancer
Probe for prostate cancer with Proteintech's unparalleled range of products and take your IHC data to the next level
---
Introduction
Prostate cancer is one of the most common types of cancer in men; over a million new cases were recorded globally in 2020. Despite the high level of occurrence, prostate cancer is relatively curable thanks to screening methods that allow for it to be detected at an earlier stage of disease progression. However, since commonly used biomarkers can lack an exact specificity for cancer tissues, there can sometimes a tendency towards overdiagnosis. It is hence important to consider a combination of biomarkers when screening to achieve an accurate diagnosis. Proteintech offers a variety of antibodies and IHC kits against biomarkers for disease identification, tumor progression, and metastasis.
Featured Markers
PSA
Prostate-specific antigen (PSA), also know as KLK3, is a serine protease that is produced by prostate epithelial cells and secreted into the seminal fluid. High levels of PSA are usually not found in the blood. When this does occur, it is typically indicative of a potential problem within the prostate. This observation has led to PSA becoming the most widely used biomarker for detection of prostate cancer. While serum levels of PSA can be used to determine a prostate cancer diagnosis, evaluation of PSA expression in prostate tissue through IHC can be a way of monitoring disease progression. As prostate cancer cells differentiate and metastasize, they may downregulate PSA expression compared to tumors that have yet to become invasive.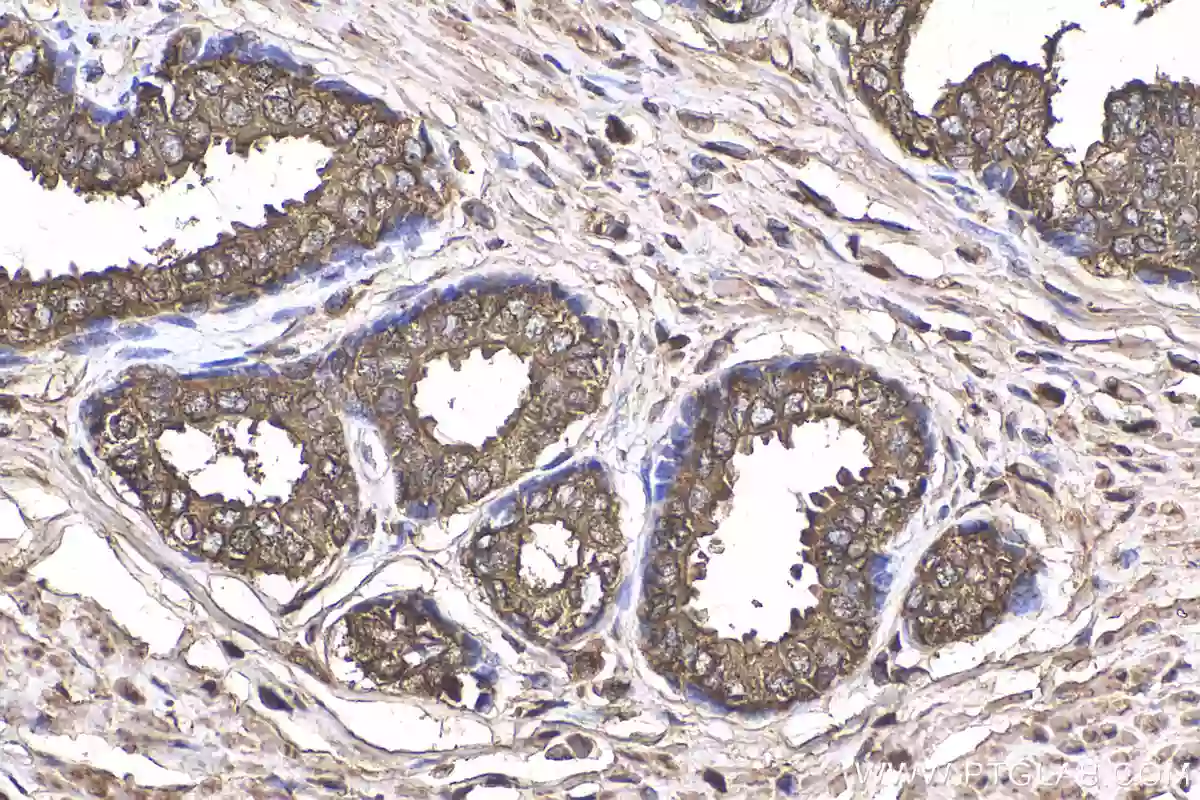 Immunohistochemical analysis of paraffin-embedded human prostate cancer tissue slide using 10679-1-AP (KLK3/PSA antibody) at dilution of 1:500 (under 40x lens).
PTEN
PTEN is a tumor suppressor that is normally an antagonist of the PI3K signaling pathway. It specifically converts the lipid messenger, PIP3, back into its inactive form which in turn prevents excessive cell proliferation, adhesion, and migration. PTEN is commonly affected by loss of function mutations or other inactivating modifications in up to 20% of prostate cancers. These PTEN-deficient tumors tend to be more aggressive and resistant to therapy. IHC has become a preferred method of detection for PTEN loss as it can be used instances where loss of activity is a result of non-genomic alterations. Proteintech's PTEN antibody is one of the top cited polyclonals against this target, trusted by over 120 researchers worldwide.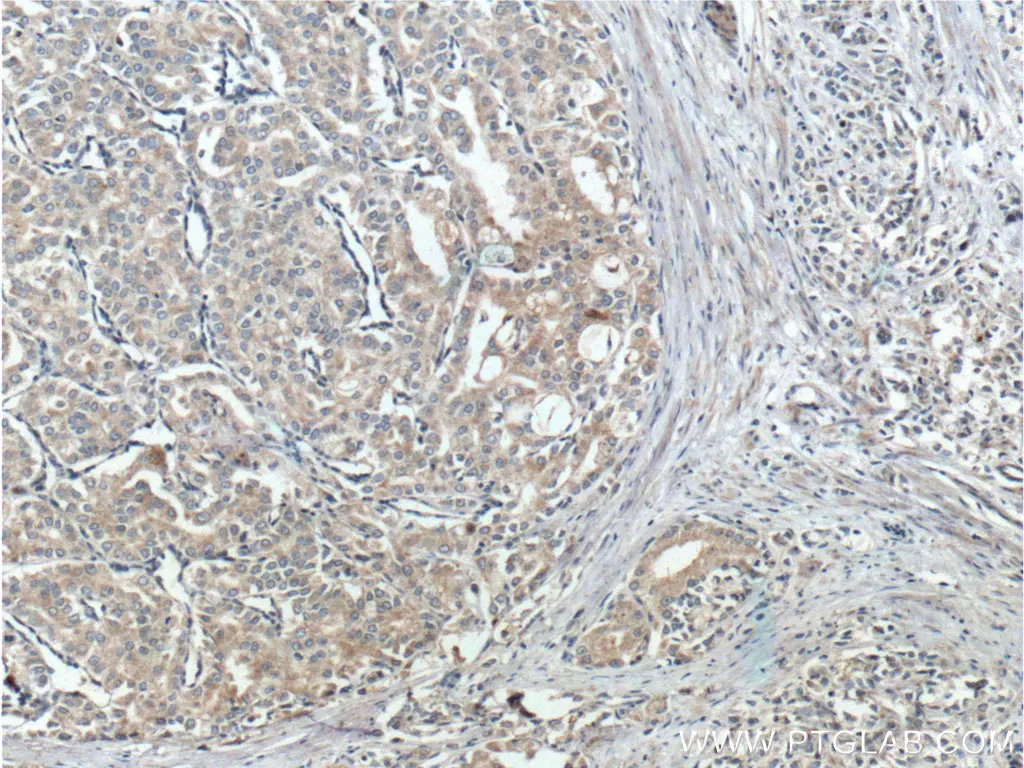 Immunohistochemical analysis of paraffin-embedded human prostate cancer tissue slide using 22034-1-AP (PTEN antibody) at dilution of 1:200 (under 10x lens).
ERG
ERG is a member of the ETS family of transcription factors that control of several cellular processes including cell proliferation, tissue remodeling, and vascular development. The ERG gene commonly fuses with other genes such as SLC45A3 or TMPRSS2 and these fusion products in turn become overexpressed in prostate cancer. Increased ERG expression helps to drive tumorigenesis of prostate tumors and can also promote metastasis when combined with dysregulation of PI3K pathway, which is also common in prostate cancer. ERG detection through IHC is said to be accurate enough to detect both fused and unfused forms of ERG.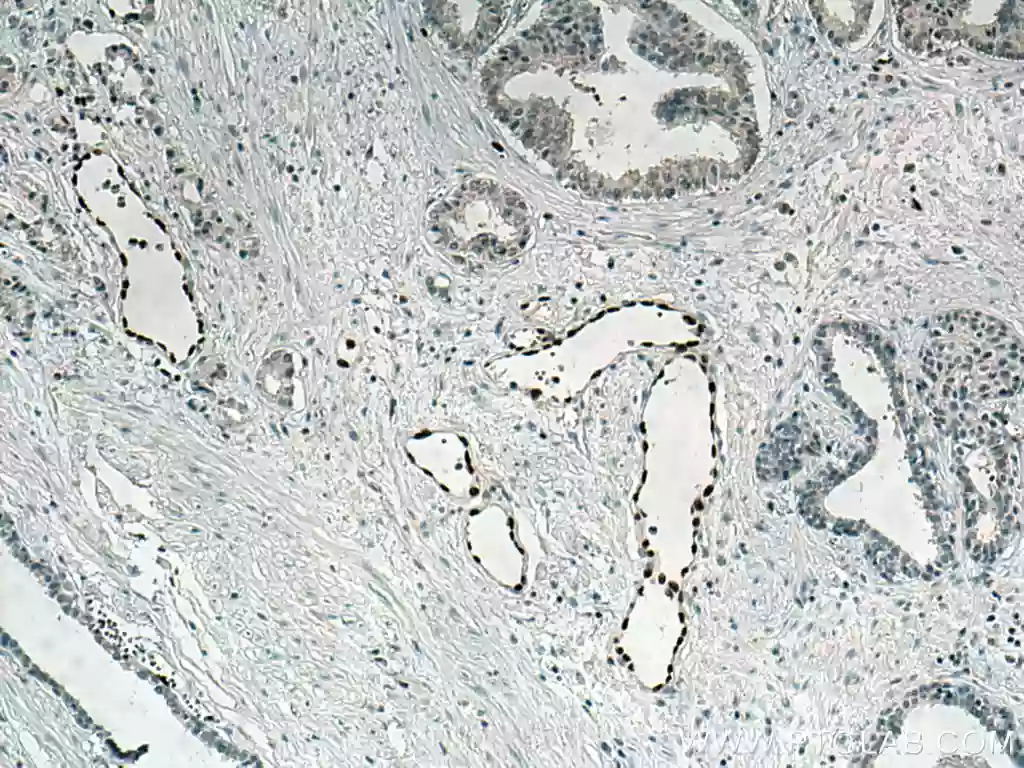 Immunohistochemical analysis of paraffin-embedded human prostate cancer tissue slide using 14356-1-AP (ERG antibody) at dilution of 1:1200 (under 10x lens).
Antibodies for Prostate Cancer Research
Function

Marker

PTG Catalog

Angiogenesis

11265-1-AP

12375-1-AP

19003-1-AP

Cell Cycle, Growth, and Proliferation

15918-1-AP

10369-1-AP

14356-1-AP

27309-1-AP

10812-1-AP

67447-1-Ig

21891-1-AP

12143-1-AP

22034-1-AP

17968-1-AP

Cancer Type Differentiation

24410-1-AP

13069-1-AP

10679-1-AP

60343-1-Ig

14437-1-AP

Metastasis

11989-1-AP

20411-1-AP

13163-1-AP
IHC Kits for Prostate Cancer Research
Function

Marker

PTG Catalog

Angiogenesis

KHC0022

KHC0770

KHC0735

Cell Cycle, Growth, and Proliferation

KHC0079

KHC0280

Cancer Type Differentiation

KHC0065

Metastasis

KHC0139

KHC0066

References
Bonk, S., Kluth, M., Hube-Magg, C., Polonski, A., Soekeland, G., Makropidi-Fraune, G., Möller-Koop, C., Witt, M., Luebke, A. M., Hinsch, A., Burandt, E., Steurer, S., Clauditz, T. S., Schlomm, T., Perez, D. R., Graefen, M., Heinzer, H., Huland, H., Izbicki, J. R., . . . Simon, R. (2019). Prognostic and diagnostic role of PSA immunohistochemistry: A tissue microarray study on 21,000 normal and cancerous tissues. Oncotarget, 10(52), 5439–5453. https://doi.org/10.18632/oncotarget.27145
Chaux, A., Albadine, R., Toubaji, A., Hicks, J., Meeker, A. K., Platz, E. A., De Marzo, A. M., & Netto, G. J. (2011). Immunohistochemistry for ERG Expression as a Surrogate for TMPRSS2-ERG Fusion Detection in Prostatic Adenocarcinomas. The American Journal of Surgical Pathology, 35(7), 1014–1020. https://doi.org/10.1097/pas.0b013e31821e8761
Farha, M., & Salami, S. S. (2022). Biomarkers for prostate cancer detection and risk stratification. Therapeutic Advances in Urology, 14, 175628722211039. https://doi.org/10.1177/17562872221103988
---
Related Content
Cancer stem cells as a key to cure cancer
Molecular markers for liver cancer

Support
Newsletter Signup
Stay up-to-date with our latest news and events. New to Proteintech? Get 10% off your first order when you sign up.