High Content Analysis
High-content screening (HCS) comprises multiple cellular assays that are conducted in an automated, parallel manner to analyze a set of different biological parameters in live cells in a high throughput format.
ChromoTek's Chromobodies® are fluorescent nanoprobes for real-time visualization of endogenous intracellular structures inside live cells. Using Chromobodies, dynamic cellular changes can be visualized and monitored in real time. This makes them perfect probes for cellular research including High-Content Analysis (Schorpp et al 2016).
Chromobodies are single domain antibodies derived from camelids (Nanobodies or VHHs) that are genetically fused to a fluorescent protein for detection. They are expressed intracellularly and bind to their target within the living cell.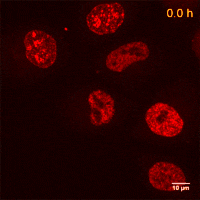 Time lapse video (22 hours): Live cell imaging of HeLa cells stable expressing Cell Cycle-Chromobody (TagRFP).