Microscopy Image Competition
Winner Announced!
---
Our inaugural image competition celebrates the microscopy skills of Proteintech customers. We invite you to share your most striking IHC or IF image for the chance to win a $100 Amazon gift card,  CoraLite fluorescent dye-conjugated antibody   and feature in the 2022 Proteintech wall calendar. 
Winner Announced!

Florian Alonso

University of Bordeaux, France

 

Image right: Whole mount en face preparation of a Lifeact-EGFP mouse aorta artery stained for the adherens junction marker VE-Cadherin (endothelial cells, magenta, Proteintech 66804-1-Ig) and the nucleus marker Hoechst (blue). The actin fibers from the smooth muscle cells located below the endothelium are revealed by the Lifeact-EGFP (green).
2021 Runners up
| | |
| --- | --- |
| Amy Engevik, Medical University of South Carolina | Derek Sung, University of Pennsylvania |
| | |
| Immunofluorescence image of mouse small intestine showing Chromogranin A positive enteroendocrine cells in yellow (Proteintech 23342-1-AP). Enteroendocrine cells make up approximately 1% of the intestinal epithelium. The apical membrane is stained with villin in pink and the lateral membrane is stained with e-cadherin in purple. Nuclei are seen in blue and were stained with Hoechst. | Adult mouse small intestine stained for BMI1 (yellow, Proteintech 10832-1-AP), which marks intestinal stem cells, and Cytokeratin 19 (magenta, CL488-10712). Nuclei are counterstained with DAPI (cyan).Sample was fixed in 4% PFA, embedded in paraffin, and imaged on a confocal microscope (20x objective).  |
Each entry must be the original work of the person entering the competition and their entry must not contain any material that infringes anyone else's copyright.

Images must be submitted using the online form below. The entrant must accept that their image may be used for marketing purposes on Proteintech email, social media and website.
Entries must be a microscopy IHC or IF image and must contain one or more Proteintech or ChromoTek products.
The image file format must be .jpeg or .png. The image should be high resolution no greater than 4MB in size. Images should not be part of published work, unless the publication in question is deemed "open access" by the journal. 
Alongside your image, please include a descriptive figure legend including the following:
Catalogue number of Proteintech antibody(s) or ChromoTek Nanobodies and dilution

(If necessary) catalogue numbers of other vendor antibodies

Sample type and fixation (e.g. Mouse heart tissue, 4% PFA fixed)

If multiplexing, please provide a clear description of each colour e.g. Red – vimentin, green – GFAP, blue – DAPI

Please state if specialist imaging techniques were used e.g. STORM or STED

Objective used and scale bar (optional)
Entry deadline: September 30th 2021
Entry Gallery 
We've highlighted some of our most recent entries. Click the image to enlarge and scroll. Good luck everyone!
| | | | |
| --- | --- | --- | --- |
| | | | |
| Tabitha Ruecker, ZMNH Hamburg | Helena Zomer, University of Illinois |  Vanina Dahsltröm-Heuser, University of Turku | Amrita Iyer, Bayor College of Medicine |
| | | | |
| Derek Sung, University of Pennsylvania | Maria Rosa, Institut Pasteur de Montevideo | Florian Alonso, University of Bordeaux | Xue Yuan, Indiana University |
The winner will receive a $100 Amazon gift voucher, CoraLite fluorescent dye-conjugated antibody and have their image featured in the 2022 Proteintech wall calendar. 
The finalists will receive a CoraLite fluorescent dye-conjugated antibody and may have their image featured in the 2022 Proteintech wall calendar.
All entries will receive a Proteintech tote bag* and an exclusive promo code for 30% off CoraLite fluorescent dye-conjugated antibodies.
Judging process
3 finalists will be chosen by a randomly selected panel of Proteintech and Chromotek scientists. Finalists will be selected on the overall aesthetics of the image, technical difficulty in obtaining the image, research relevance, originality and suitability for the competition. The overall winner will be determined by a public vote.
Finalist announcement: 11th October 2021
Voting process
3 competition entries will be shortlisted as finalists by the Proteintech judging panel. On October 11th the entry form on this page will be replaced by a voting form. Only 1 vote per day, per person will be counted. The overall winner will be the entry which receives the most public votes. 
Public voting period: 11th - 24th October 2021
Winner announcement: Monday 1st November 2021
Proteintech's CoraLite antibodies are directly conjugated with fluorescent dyes: CoraLite488, CoraLite594 and CoraLite647. They offer bright and long lasting fluorescence and act as perfect tools for immunofluorescence studies requiring multiplex co-labeling studies without the need for secondary antibodies.

Antibodies: CL488-66376 (Troponin I), CL594-22018 (N Cadherin), CL647-67735 (Smooth muscle actin).

Mouse heart. Expression of troponin I(green) in Cardiac muscle, N cadherin (red) in Intercalated discs and Smooth muscle actin (pink) in Smooth muscle cells of cardiac vasculature. 

Antibodies: CL488-12633 (DAZL), CL594-13720 (BOULE) and CL647-17178 (TNP1).

Mouse Testis. Expression of DAZL (green) in spermatogonia cells, BOULE (red) in spermatocytes and TNP1 (pink) in spermatids. This image show differential protein expression during spermatogenesis.

Antibodies: CL488-17490 (MAP2), CL594-16825 (GFAP), and CL647-16473 (AQP4).

Mouse brain. Expression of MAP2 (green) in neurons, GFAP (red)in Astrocytes and AQP4 (pink) in astroglialendfeets.

 
Nano-Secondaries® are the next level of secondary antibodies. They enable cleaner images with higher resolution. They consist of VHHs, also named Nanobodies, conjugated to Alexa Fluor® dyes. Nano-Secondaries have high affinities and bind to primary antibodies in a subclass and species-specific manner.

HeLa cells stably expressing Tubulin-GFP at near-endogenous level were immunostained with rabbit anti-GFP PABG1 antibody and alpaca anti-rabbit IgG VHH Alexa Fluor® 647 (magenta). Nuclei were detected with H2B-RFP and RFP-Booster Atto594 (cyan). Scale bar, 10 μm.

The anti-mouse IgG2b Nano-Secondary is subclass-specific and does not cross-react with IgGs from other commonly used species (here rabbit) and with mouse IgG1 and IgG3 subclasses.

HeLa cells were immunostained with mouse IgG3 anti-Lamin A/C antibody + alpaca anti-mouse IgG3 VHH Alexa Fluor® 647 (magenta). Scale bar, 10 μm.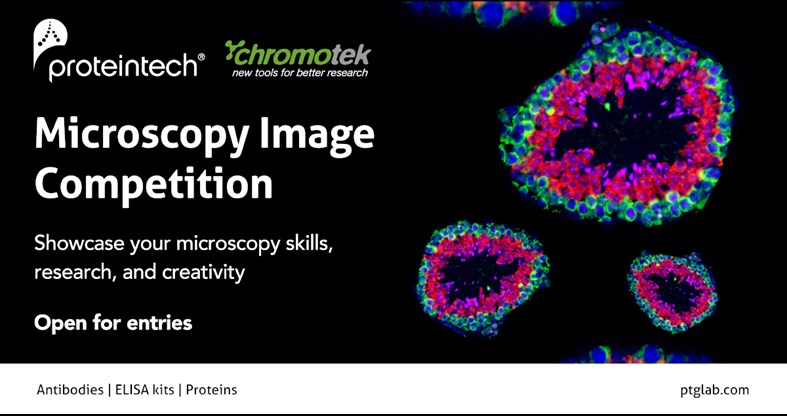 The submitted image must be a microscopy IHC or IF image and must contain one or more Proteintech or ChromoTek products.

The competition opens for entry submissions on Monday 19th July 2021. Entries close on Thursday 30th September 2021.

* Tote bags can only be shipped to entrants based in the United States, Australia, New Zealand or Europe.

The image file format for entries submitted via the online form must be .jpeg or .png. The image should be high resolution no greater than 4MB in size.

The entrant accepts winning and runner up entries will be used for marketing purposes on Proteintech and ChromoTek email, social media and website. The entrant's name, University/Institution and a brief image description will be used.

Each finalist will receive 1x CoraLite antibody. Finalist images may be featured in the Proteintech 2022 calendar, however this is not guaranteed.

All entries will receive a Proteintech tote bag and an exclusive promo code for 30% off CoraLite fluorescent dye-conjugated antibodies.

On November 1st the overall winner will be announced. The overall winner's image will be featured in the 2022 Proteintech calendar and receive a free Coralite Antibody and Amazon voucher of the value (£100) or ($100) or 100EUR) .

Prizes are non transferable, exchangeable or redeemable for cash.

Images should not be part of published work, unless the publication in question is deemed "open access" by the journal. By submitting this image you are agreeing that you have permission from all authors and funders to share this work publicly.

Proteintech reserves the right to change the prize without notice.

Entries will be judged on the overall aesthetics of the image, technical difficulty in obtaining the image, research relevance, originality and suitability for the competition.

Each entry must be the original work of the person entering the competition and their entry must not contain any material that infringes anyone else's copyright.

Proteintech reserve the right to cancel this competition at any stage.

Winners will be announced via our social media , email and website.

Entrants will be deemed to have understood the competition rules and accepted them and agree to be bound to them when entering the competition.

Images will be judged by a randomly selected panel of Proteintech and Chromotek scientists.

Proteintech reserves the right to disqualify any entrant for submitting an entry, which is not in accordance with these Terms and Conditions