What GFP-Trap should I use for my immunoprecipitation?
GFP-Trap Agarose, GFP-Trap Magnetic Agarose,GFP-Trap Magnetic Particles M-270, GFP-Trap 96 Multiwell Plate
---
ChromoTek GFP-Trap® is optimized for the immunoprecipitation of GFP-tagged proteins and their interacting factors. The GFP-Trap consists of the ChromoTek anti-GFP Nanobody/ VHH that is coupled to 3 different types of beads or is immobilized in a 96 multiwell plate:
Agarose beads
Magnetic Agarose beads
Magnetic Particles M-270
96 Multiwell Plate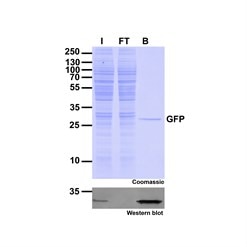 Immunoprecipitation with GFP-Trap.
I: Input, FT: Flow-Through, B: Bound
Based on the properties of the different matrices (see table), we recommend:
| | | | | |
| --- | --- | --- | --- | --- |
| GFP-Trap | Agarose | Magnetic Agarose | Magnetic Particles M-270 | Multiwell Plate |
| Low background* | +++ | ++ | ++ | ++ |
| Binding capacity | +++ | +++ | + | + |
| Size GFP-tagged protein* | Small to large | Small to large | Small to very large | Small to very large |
| Bead separation | centrifugation | magnetic | magnetic | Nanobody directly immobolised to multiwell plate |
*Please note that these are general guidelines. For a specific protein or complex, the optimal experimental conditions/ GFP-Trap must be tested.
In detail, all types of GFP-Trap have very low background binding due to the highly specific binding of GFP (fusion proteins). In comparison, GFP-Trap Agarose has the lowest background. The background of GFP-Trap Magnetic Agarose and GFP-Trap Magnetic Particles M-270 is at slightly elevated levels. Hence, GFP-Trap Agarose is recommended if a very low background is needed.
The size and shape of the actual GFP-fusion protein, multimer or complex may require the use of the non-porous GFP-Trap Magnetic Particles M-270, because larger GFP-fusion proteins can't access the GFP VHH ligands inside the pores of agarose and magnetic agarose beads. Note that smaller proteins may form multimers or may be part of larger complexes and hence have larger sizes than expected.
Transparent GFP-Trap Multiwell Plates are pre-blocked and the GFP Nanobody is immobilized within the wells on solid polystyrene surface. They can be used for for high throughput analysis and immunoprecipitation of even very large proteins/ protein complexes.
 

GFP-Trap beads

 

Agarose

Magnetic Agarose

Magnetic Particles M-270

Matrix

Agarose
(4% cross-linked)

Magnetic agarose
(6% cross linked)

Magnetic Particles M-270

Bead form

Porous

Porous; sold iron core

Solid

Ligand

GFP VHH

GFP VHH

GFP VHH

Affinity to GFP

1 pM

1 pM

1 pM

GFP-tagged protein size*

Small to large size

Small to large size

Small to very large size; all sizes

Color

White

Black

Brown

Medium particle size

~90 µm

~40 µm

2.8 µm

Binding capacity

12 µg/ 10 µL

8 µg/ 10 µL

1 μg/ 10 μL

Background

Very low

Low

Low

Magnetic separation & automation

no

Yes

Yes

May be centrifuged up to

2,500 x g

800 x g

8,000 x g
* Does depend on protein size and shape, protein multimers, complexes and interaction partners
Find out for yourself and test the GFP-Trap:
---
Related Content
GFP-Trap for immunoprecipitation (IP) – stringent washing
How to elute GFP-fusion protein from the GFP-Trap®
Mass spec-compatible immunoprecipiation for GFP, mNeonGreen, Myc, RFP, Spot, and TurboGFP
GFP (green fluorescent protein): Properties, origin, specifications, tips
The best anti-GFP antibody for immunoprecipitation: GFP-Trap
Green fluorescent protein (GFP) in plant research
GFP-Booster: GFP Nanobody for better images in immunofluorescence
GFP and RFP-Booster for better immunofluorescence imaging
GFP- Nanobodies and RFP- Nanobodies conjugated to quantum dots
Learn how to save precious hours on your IP, IF, and western blotting experiments

Support
Newsletter Signup
Stay up-to-date with our latest news and events. New to Proteintech? Get 10% off your first order when you sign up.