New anti-mNeonGreen antibody & Nano-Trap for Immunofluorescence & Immunoprecipitation
Novel tools for the analysis of mNeonGreen fusion proteins
---
ChromoTek is proud to introduce new tools for mNeonGreen fusion proteins: 
Request a free mNeonGreen-Trap sample
mNeonGreen antibody for IF of mNeonGreen-tagged proteins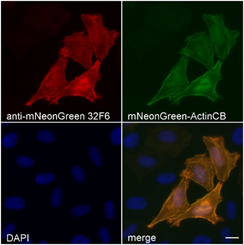 Immunostaining of HeLa cells transiently expressing mNeonGreen fused to Actin Chromobody (green) with 32F6 antibody (red). Merge image shows overlay of green and red channels and DAPI (blue).  Scale bar, 10 μm. Anti-mNeonGreen antibody 32F6 is a validated and exceptional tool for sensitive detection of mNeonGreen- fusion proteins in immunofluorescence. The anti-mNeonGreen antibody is a purified mouse monoclonal IgG2a.
mNeonGreen-Trap for IP of mNeonGreen-tagged proteins



Immunoprecipitation of mNeonGreen. I: Input , FT: Flow through, B: Bound. 
Obtain a single band purification of your mNeonGreen fusion protein in pulldowns using mNeonGreen-Trap. The efficiency of this novel affinity reagent is shown in the corresponding Western blot: no mNeonGreen is detectable in the flow-through fraction indicating a complete pulldown.
mNeonGreen-Trap consists of an anti-mNeonGreen single domain antibody (sdAb) fragment from alpaca, also termed VHH, or nanobody, and is coupled to agarose (mNeonGreen-Trap Agarose) or magnetic agarose (mNeonGreen-Trap Magnetic Agarose). The mNeonGreen-Trap is optimized for pull-down of mNeonGreen fusion proteins.
Benefit from mNeonGreen-Trap in immunoprecipitation:
Superior pulldown of mNeonGreen-fusion proteins  (high affinity with a dissociation constant KD of 2 nM)
No heavy & light chains in your downstream application
Strong binding even under harsh washing conditions
Short incubation time of about 30 minutes
Alpaca Antibody Advantage
---
Related Content
Nanobody-based reagents by ChromoTek 
Why are recombinant Nanobodies/ VHHs beneficial?
Green fluorescent protein (GFP) in plant research
The best anti-GFP antibody for immunoprecipitation: GFP-Trap
What GFP-Trap should I use for my immunoprecipitation?
TurboGFP: Properties, Sequence, MW, origin
Mass spec-compatible immunoprecipiation for GFP, mNeonGreen, Myc, RFP, Spot, and TurboGFP
GFP Nanobody for better images in immunofluorescence
GFP and RFP-Booster for better immunofluorescence imaging

Support
Newsletter Signup
Stay up-to-date with our latest news and events. New to Proteintech? Get 10% off your first order when you sign up.