HEK293 expressed
Endotoxin-free
Animal-component free
HumanKine® recombinant human IL-21 protein- GMP grade
EC50
0.25-1.25 ng/mL EC50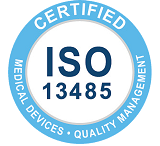 Cat no : HZ-1319-GMP
Synonyms
Interleukin 21, Interleukin-21, Interleukin-21 isoform, Za11, CVID11
---
---
Technical Specifications
| | |
| --- | --- |
| GeneID | 59067 |
| Species | Human |
| Expression | HEK293 |
| EC50 | 0.25-1.25 ng/mL EC50 |
| Purity | >95% |
| Endotoxin | <0.1 EU/μg |
| Accession Number | Q9HBE4 |
| Molecular Mass | 18 kDa, monomer, glycosylated |
| Formulation | 1x PBS, See Certificate of Analysis for details |
| Species Reactivity | human |
Stability and Reconstitution
Stability and Storage
Product Form
Temperature Conditions
Storage Time
(From Date of Receipt)
Lyophilized
-20°C to -80°C
Until Expiry Date
Lyophilized
Room Temperature
2 weeks
Reconstituted as per CofA
-20°C to -80°C
6 months
Reconstituted as per CofA
4°C
1 week
Avoid repeated freeze-thaw cycles.
| | |
| --- | --- |
| Reconstitution | Briefly centrifuge the vial before opening. It is recommended to reconstitute the protein in sterile 1x PBS pH 7.4 containing 0.1% endotoxin-free recombinant human serum albumin (HSA). |
GMP Quality Policies
HumanKine® GMP (Good Manufacturing Practice) recombinant proteins are manufactured and validated in accordance with ISO 13485 quality management system and is compliant with GMP.
Our GMP recombinant proteins are animal component free (ACF), xeno free (XF) and tag free (TF). Read more about these policies here.
Background
IL-21 is a type I, 4-α-helix bundle cytokine primarily produced by CD4+ T cells and NK cells. It is a strong activator of proliferation and antibody production in B cells but does signal to numerous other immune cells as well. Elevated IL-21 signaling can promote several autoimmune diseases including type I diabetes, systemic lupus erythematosus (SLE), and rheumatoid arthritis (RA). However, it has also been shown to have potent antitumoral activity, making it a promising candidate for immunotherapy and as an adjuvant material in CAR-T cell therapy (PMID: 22235123, 26966515, 27577879).
Synonyms
Interleukin 21, Interleukin-21, Interleukin-21 isoform, Za11, CVID11