HEK293 expressed
Endotoxin-free
Animal-component free
HumanKine® recombinant human FGFbasic-TS protein- GMP grade
EC50
0.4-2.5 ng/mL EC50 in NIH3T3 cells in defined Media
Specific Activity
>1.00 x 107 IU/mg
Species Reactivity
human,mouse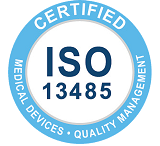 Cat no : HZ-1285-GMP
Synonyms
Basic fibroblast growth factor, BFGF, FGF basic, FGF basic-TS, FGF2, FGFB, FGFbasic, FGFbasic-TS, HBGF 2
---
---
Technical Specifications
| | |
| --- | --- |
| GeneID | 2247 |
| Species | Human |
| Expression | HEK293 |
| EC50 | 0.4-2.5 ng/mL EC50 in NIH3T3 cells in defined Media |
| Activity(Secondary) | 0.05-0.4 ng/mL EC50 in HDFa cells |
| Specific Activity | >1.00 x 107 IU/mg |
| Purity | >95% |
| Endotoxin | <0.1 EU/µg |
| Accession Number | P09038 |
| Molecular Mass | 17 kDa, monomer, non-glycosylated |
| Formulation | 1x PBS, See Certificate of Analysis for details |
| Species Reactivity | human,mouse |
Stability and Reconstitution
Stability and Storage
Product Form
Temperature Conditions
Storage Time
(From Date of Receipt)
Lyophilized
-20°C to -80°C
Until Expiry Date
Lyophilized
Room Temperature
2 weeks
Reconstituted as per CofA
-20°C to -80°C
6 months
Reconstituted as per CofA
4°C
1 week
Avoid repeated freeze-thaw cycles.
| | |
| --- | --- |
| Reconstitution | Reconstitution is recommended at 0.2 mg/mL using sterile 1x PBS pH 7.4 containing 0.1% endotoxin-free recombinant human serum albumin (HSA). |
GMP Quality Policies
HumanKine® GMP (Good Manufacturing Practice) recombinant proteins are manufactured and validated in accordance with ISO 13485 quality management system and is compliant with GMP.
Our GMP recombinant proteins are animal component free (ACF), xeno free (XF) and tag free (TF). Read more about these policies here.
Background
Basic Fibroblast growth factor (FGFbasic), also known as bFGF, FGF2, FGF-β or HBGF-2, belongs to the FGF family. FGFbasic is involved in a number of biological processes including embryonic development and differentiation, neuron differentiation, survival, and regeneration, and the proliferation of cells of mesodermal origin and many cells of neuroectodermal, ectodermal, and endodermal origin (PMID 3272178, 3316527). FGFbasic is critical for human embryonic stem cells to remain in an undifferentiated state during cell culture (PMID 15782187).
Synonyms
Basic fibroblast growth factor, BFGF, FGF basic, FGF basic-TS, FGF2, FGFB, FGFbasic, FGFbasic-TS, HBGF 2
Reviews
The reviews below have been submitted by verified Proteintech customers who received an incentive forproviding their feedback.
FH

Xunyu (Verified Customer) (07-26-2022)

Works very well

Applications: Cell culture