HEK293 expressed
Endotoxin-free
Animal-component free
HumanKine® recombinant human FGF-8b protein- GMP grade
Species Reactivity
human,mouse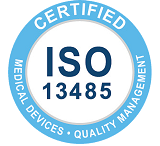 Cat no : HZ-1103-GMP
Synonyms
AIGF, Androgen induced growth factor, FGF 8, FGF8, FGF-8b, Fibroblast growth factor 8, HBGF 8, KAL6, FGF8b
---
---
Technical Specifications
| | |
| --- | --- |
| GeneID | 2253 |
| Species | Human |
| Expression | HEK293 |
| EC50 | 10-60 ng/mL EC50 |
| Purity | >95% |
| Endotoxin | <0.1 EU/μg |
| Accession Number | P55075 |
| Molecular Mass | 30 to 45 kDa, monomer, glycosylated |
| Formulation | 10 mM Tris-HCl pH 7.4 + 800 mM NaCl, See Certificate of Analysis for details |
| Species Reactivity | human,mouse |
Stability and Reconstitution
Stability and Storage
Product Form
Temperature Conditions
Storage Time
(From Date of Receipt)
Lyophilized
-20°C to -80°C
Until Expiry Date
Lyophilized
Room Temperature
2 weeks
Reconstituted as per CofA
-20°C to -80°C
6 months
Reconstituted as per CofA
4°C
1 week
Avoid repeated freeze-thaw cycles.
| | |
| --- | --- |
| Reconstitution | Briefly centrifuge the vial before opening. It is recommended to reconstitute the protein in sterile water containing 0.1% endotoxin-free recombinant human serum albumin (HSA). |
GMP Quality Policies
HumanKine® GMP (Good Manufacturing Practice) recombinant proteins are manufactured and validated in accordance with ISO 13485 quality management system and is compliant with GMP.
Our GMP recombinant proteins are animal component free (ACF), xeno free (XF) and tag free (TF). Read more about these policies here.
Background
Fibroblast growth factor 8 (FGF8), also known as AIGF and HBGF-8, belongs to the FGF family. FGF family members possess broad mitogenic and cell survival activities, and are involved in a variety of biological processes, including embryonic development, cell growth, morphogenesis, tissue repair, tumor growth and invasion (PMID: 11276432; 15863033). FGF8 stimulates growth in an autocrine manner in normal individuals but mediates hormonal action during tumorigenesis (PMID 17512240). Defects in FGF8 cause Kallmann syndrome type 6 (KAL6) and idiopathic hypogonadotropic hypogonadism (IHH) (PMID 18596921).
Synonyms
AIGF, Androgen induced growth factor, FGF 8, FGF8, FGF-8b, Fibroblast growth factor 8, HBGF 8, KAL6, FGF8b
Publications
Species
Title

Front Cell Neurosci

Nicotinamide enhances myelin production after demyelination through reduction of astrogliosis and microgliosis