HEK293 expressed
Endotoxin-free
Animal-component free
HumanKine® recombinant human Cystatin C protein- GMP grade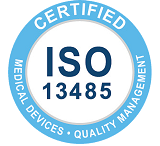 Cat no : HZ-1211-GMP
Synonyms
ARMD11, CST3, Cystatin 3, cystatin C, Gamma trace, Post gamma globulin
---
---
Technical Specifications
| | |
| --- | --- |
| GeneID | 1471 |
| Species | Human |
| Expression | HEK293 |
| EC50 | 0.5-2.6 µg/mL EC50 |
| Purity | >95% |
| Endotoxin | <0.1 EU/μg |
| Accession Number | P01034 |
| Molecular Mass | 12 to 13 kDa, monomer, non-glycosylated |
| Formulation | 1x PBS, See Certificate of Analysis for details |
| Species Reactivity | human |
Stability and Reconstitution
Stability and Storage
Product Form
Temperature Conditions
Storage Time
(From Date of Receipt)
Lyophilized
-20°C to -80°C
Until Expiry Date
Lyophilized
Room Temperature
2 weeks
Reconstituted as per CofA
-20°C to -80°C
6 months
Reconstituted as per CofA
4°C
1 week
Avoid repeated freeze-thaw cycles.
| | |
| --- | --- |
| Reconstitution | Briefly centrifuge the vial before opening. It is recommended to reconstitute the protein in sterile 1x PBS pH 7.4. |
GMP Quality Policies
HumanKine® GMP (Good Manufacturing Practice) recombinant proteins are manufactured and validated in accordance with ISO 13485 quality management system and is compliant with GMP.
Our GMP recombinant proteins are animal component free (ACF), xeno free (XF) and tag free (TF). Read more about these policies here.
Background
Cystatin C is a 13-kDa protein that is expressed globally in the body. In healthy individuals, glomerular filtration in the kidney maintains it at a safe level. When kidney function is impaired, Cystatin C levels rise quickly. This makes it an early and sensitive biomarker of renal dysfunction (PMID 24848523). A mutation in Cystatin C has been associated with amyloid angiopathy (PMID 11409420). Expression of this protein in vascular wall smooth muscle cells is severely reduced in both atherosclerotic and aneurysmal aortic lesions, establishing its role in vascular disease. In addition, this protein has been shown to have an antimicrobial function, inhibiting the replication of herpes simplex virus.
Synonyms
ARMD11, CST3, Cystatin 3, cystatin C, Gamma trace, Post gamma globulin