Human Albumin ELISA Kit
Proteintech ELISA Kit (KE00076) can detect endogenous Albumin in serum, plasma, and urine samples.
1. A few words about albumin  
Albumin is one of the most abundant proteins in the blood and performs a variety of roles. Albumin keeps fluid from leaking out of blood vessels, nourishes tissues, and carries hormones, vitamins, drugs, and ions such as calcium throughout the body. Albumin is produced and regulated by the liver. The normal range of albumin in plasma is 3.4–5.4 grams per deciliter (g/dL). Decreased levels of serum albumin may suggest kidney or liver dysfunctions (e.g., hepatitis and cirrhosis). 
2. Proteintech Albumin ELISA kit (KE00076)
KE00076 kit has been validated to quantify the albumin levels in plasma and urine. This kit is a solid-phase sandwich Enzyme-linked Immunosorbent Assay (Sandwich ELISA) that can detect human endogenous albumin level in serum, plasma, and urine. A monoclonal antibody specific to albumin has been pre-coated onto the microwells. The albumin protein is captured by the coated antibody after incubation. The average recovery of albumin in human plasma is 85% (76%–96%). This immunoassay is calibrated against the National Standard for human albumin (Lot: 280023-201501) from National Institutes for Food and Drug Control, China. Compared to its top competitors, this kit offers greater scope for use in a multitude of contexts.
Figure 1. The standard curve  of Human Albumin ELISA Kit KE00076.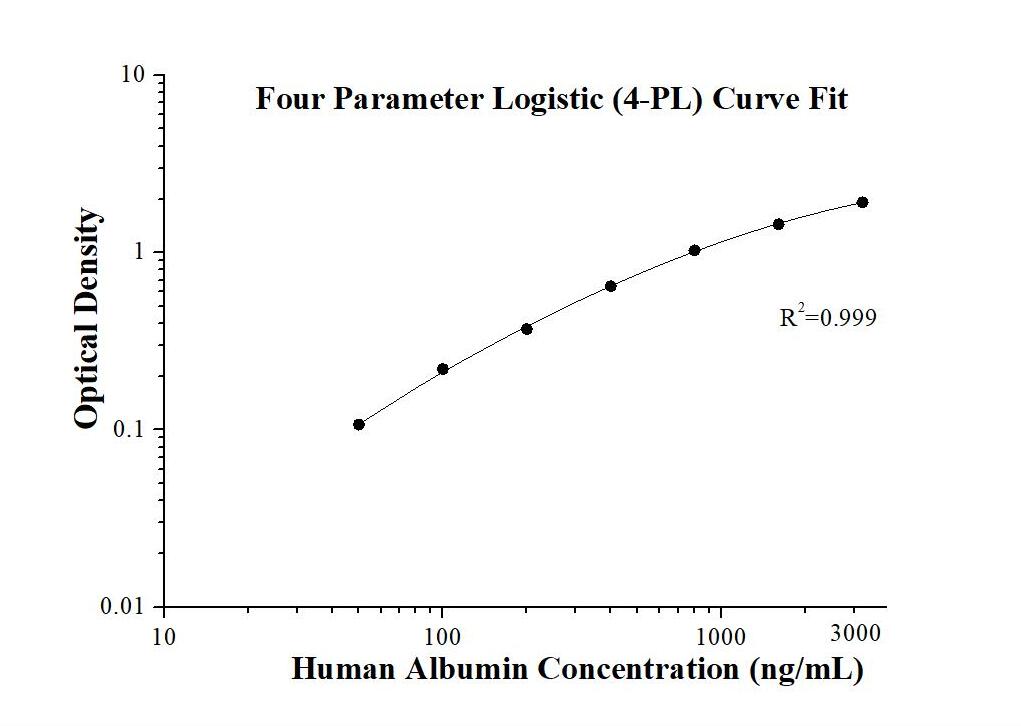 Sensitivity:    8 ng/mL        Range:    12.5-800 ng/mL
Assay precision summary